I recently returned from another 10 days in South West Alaska.  We spilt our time evenly between Dillingham and Cold Bay.  We were blessed to have an awesome stretch of weather as we were able to work every day.  The first 3 days of the job were virtually blue bird, so when a little bit of cloud cover and freezing rain showed up we really could not whine about it.  The winds were generally light never exceeding 30 knots on the surface.  We saw steaming volcanos, bears, wolves, foxes, caribou, moose, a killer whale, old ship wrecks, glass bouy balls, eagles, a wrecked DC-6, and we even stopped at the hot springs for a little swim.  It was truly an awesome trip.  If this works there will be about 70 pictures from the trip posted below.
Crossing the Alaska Range for the west side.
Crossing the lake district North of Dillingham.
Refuling near Sparrevohn.
Refuling at Nyac with only thin snow cover.
Sneaking back into Dillingham on drizzly night.
More fuel at Nyac.
On the ramp in Dillingham, hoping it does not start to freeze and thankful for a hangar.
Changing oil in the hangar in Dillingham.
Ali's stuffed horse Milo took this trip with me.
Complete lack of snow leaving King Salmon, Alaska.
Milo and I waiting for the helicopter in Port Heiden
Crossing from mainland to Unimak Island.
Shishaldin Volcano on Unimak Island.
Neighboring Isanotski Volcano.
Isanotski Summit.
Shishaldin Summit
False Pass, Alaska.
False pass.
South Side of the Alaska Penninsula.
Looking through False pass with Mainland on the right and Unimak Island on the left.
South side of Unimak on a beautiful morning.
Fueling in the sleet.
Final for landing at False Pass.
Cold Bay Saturday Night.
Cold Bay Sunday Morning.
A DC-6 landed gear up at Cold Bay several years ago.
Mike and I posing by the carnage.
This is now sitting off to the side of the runway.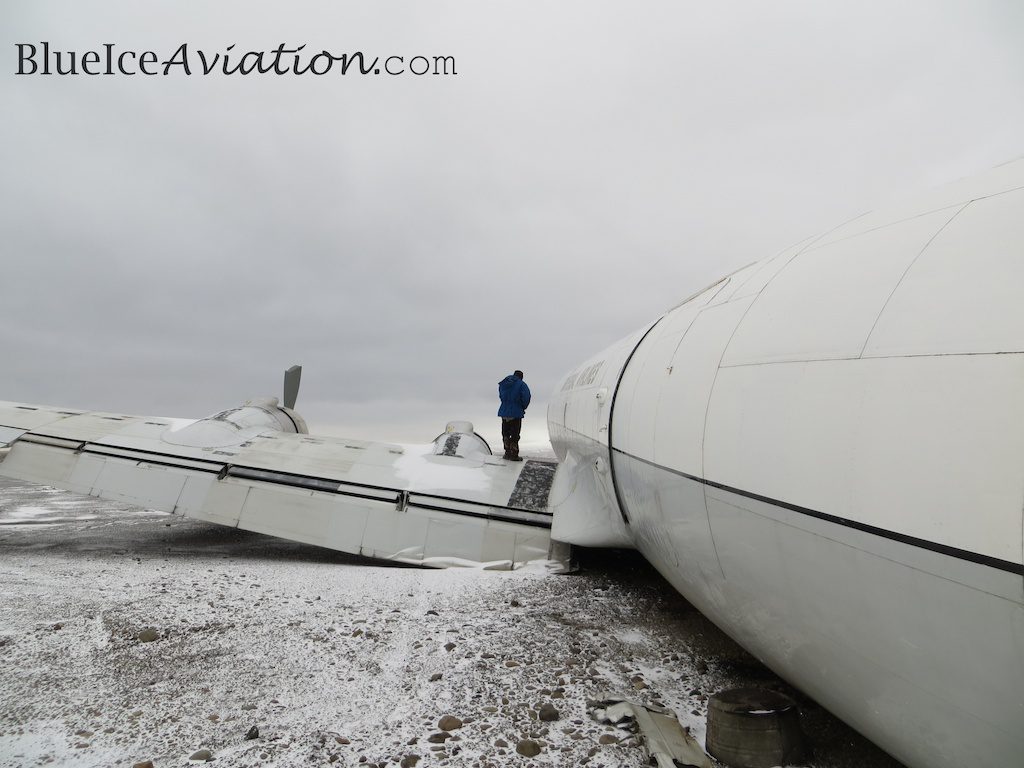 Looks sorta cold.
You can see the helicopter and the biologist … I circled the caribou.
How many caribou do you see?
This might help.
Beautiful morning in Cold Bay.
There were too many photos to upload all at once … so there is a second part with lots more photos if you are interested.  Just click here http://www.blueiceaviation.com/blog/photo-dump-early-april-in-south-west-alaska-part-2
You can also purchase high quality Blue Ice Aviation shirts and/or hats by going here http://blueiceaviation.com//shop.php