I just returned from a trip that I will not soon forget.  I left Palmer in the Cessna 185 on October 22nd and returned 8 days later.  I covered about 4,700 miles and at my furthest point I was 817 miles SouthWest of home (Palmer area).  We spent a few days in Dillingham, and landed to dump in cans of gas at Port Alsworth, Nyac, Lime Village, Nondalton, Igiugig, Koliganek, King Salmon, Jensens Strip, Port Heiden, Port Moller, Black Hills, Cold Bay, and Cape Sarichef.  We spent 2 days on the ground for bad weather, but other than that it was actually quite nice.  We saw bears, wolves, thousands of caribou, walruses, moose, eagles, volcanoes, wrecked airplanes, snow, rain, sleet, fog, and 45 mph winds, and we did not even scratch the surface of what is available!  Alaska never ceases to blow my mind.  So sit back, relax, and scroll through a tiny fraction of South West Alaska.  My camera battery was blinking red the whole trip, which was nearly disastrous, but I was cautious with my shots and got a couple of good ones.
The Narrows in Lake Clark Pass.
Everets Air Cargo C-46 Exiting the Pass.
Mountains in Little Lake Clark Pass.
Refueling in Nyac.
Weird helicopter pilot lunches.
9800′ over the TikChik lakes.
A Self Portrait.
The edge of Lake Iliamna in rain showers.
Fueling in Port Heiden.
A Super Cub dug into the ramp to diminish the angle of attack.  The wind blew 55mph here the day before we arrived.
Refueling in Port Moller.
Crossing at Port Moller.
Refueling at Black Hills.
Flying off the iPad Sectional.
Mike Meekin in the 185, with Shishalden Volcano in the background.
Crossing from the main land to Unimak Island at False Pass.
The Water in False Pass.
The South Coast of Unimak Island.
Fisher Caldera.
The GPS.
Southwest shore of Unimak Island.
The next island down the chain, my GPS said it's Akun.
Refueling at Cape Sarichef … just awesome.
I think that is Pavlof sister and Pavlof volcano but I am not sure.
A couple of walruses.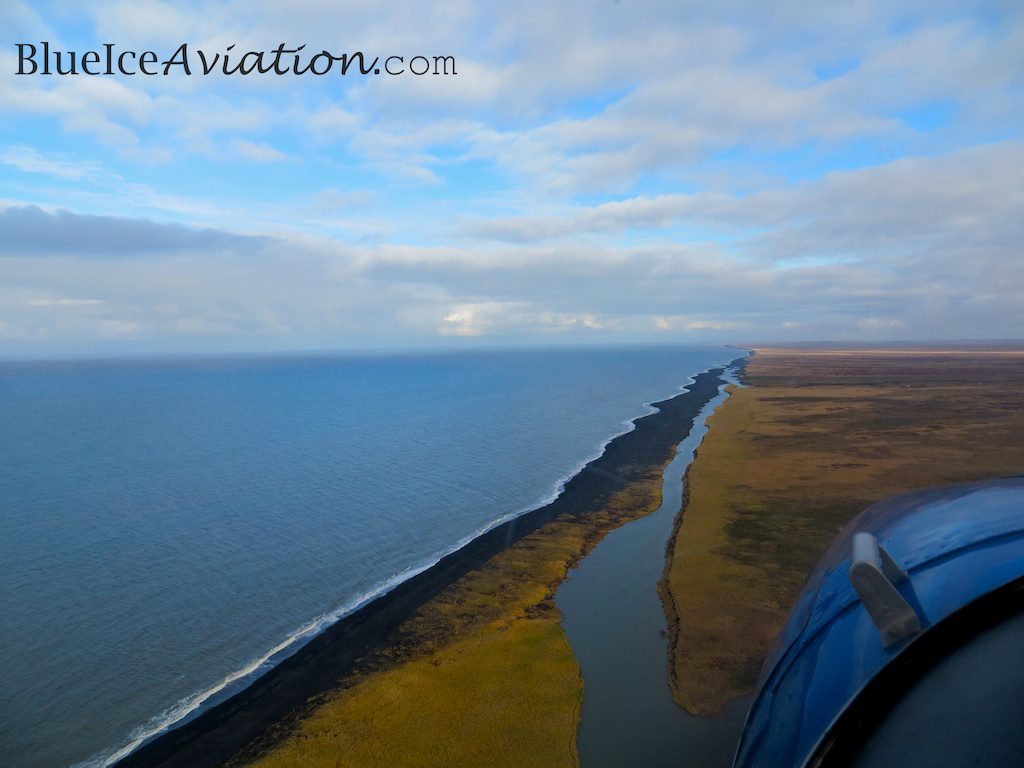 The coast line south of Port Heiden.
Mike and I proudly standing by the Cold Bay sign.
Heading home.
Almost back to Port Alsworth.
Well, that is my tiny snap shot of South West Alaska.  That was one awesome trip, but I am happy to be home with my girls.  Now I am just hanging out wrenching on airplanes, working on the house, and waiting to mail you a calendar! www.blueiceaviation.com/shop.php