I recently returned from a couple of weeks in southwest Alaska.  Oddly, the job required both my cub and my Cessna 185 so I had both of them parked in Dillingham.  During the two weeks we flew more than 80 hours and I only had 1 day off due to weather.  I was really thankful for two weeks with flyable weather.  We were supposed spend about 5 days in Dillingham, about 5 days in King Salmon, and a couple of nights in Cold Bay.  The weather was questionable enough that we never made it all the way to Cold Bay.  The furthest south I went was the Meshik River at Port Heiden.  We canceled the remainder of the Cold Bay run because of the forecast.  I was bummed to miss the flight, but I was thankful we chickened out when I checked the weather and it blowing 32 gusts 44 knots, 2 miles visibility, and 1000′ overcast in freezing rain. Call me a weeny, but that is not the sort of weather this little princess flies his birds in.  As always the best part of the trip was the people I get to work with.  SO thankful for the team I get to work with.  Here are a few photos from the big trip.
Cook Inlet on my way to Dillingham in the cub.
15 minutes later … the weather changes fast.
A quick break in Lake Clark Pass.
Dillingham is just to the right of the rain shower.
Approaching the village of Eek for a quick fuel stop.
Turbulence in the Tikchik Mountains upset the cargo, it was not comfortable.
The Cub and R44 refueling in a dry lake bed.
The Sunrise one morning from Dillingham.
Meeting up to refuel the birds in the Kilbuck Mountains.
A new landing zone I name "white rock", this is a new one for me.
Kisaralik Lake, absolutely beautiful.
Changing oil in the hangar in Dillingham.
Meeting the Cub in a dry lake bed on the Stuyahok River.
Quick break on the Togiak River.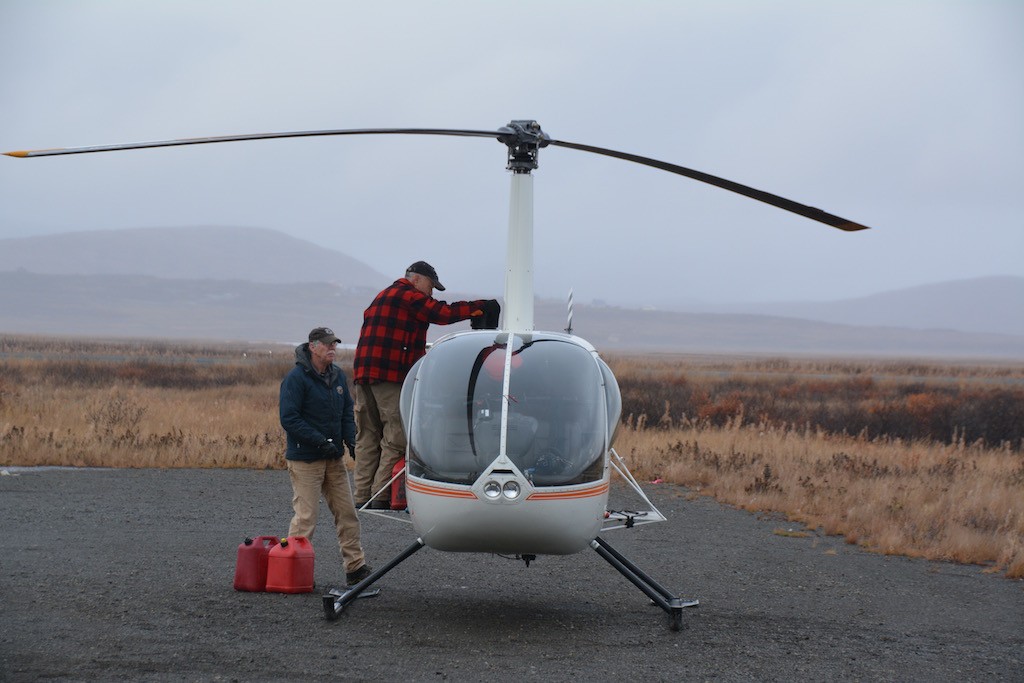 The legends in their element.
Taking off from Togiak on our way home.
A rain squall moving in on the village of Togiak.
Lake Clark Pass on the way back to Wasilla in the Cub.
I love those patterns in the sand and water.
A good arial shot of the village of Dillingham with the Tikchiks in the background.
Awesome cloud formations from the wind in the Aleutian Range. 
Refueling the helicopter on a gravel bar.
Fueling up on a chilly morning in King Salmon.
Winds that lift the water off the surface of Becharof Lake are merely a light breeze in this country :o)
Almost home!  Passing Lake Clark, and headed for the pass, on a beautiful day to go home.
NICE TO BE HOME!!  Thankful for sure!