The airstrip barely revealing itself.
Happy backpackers.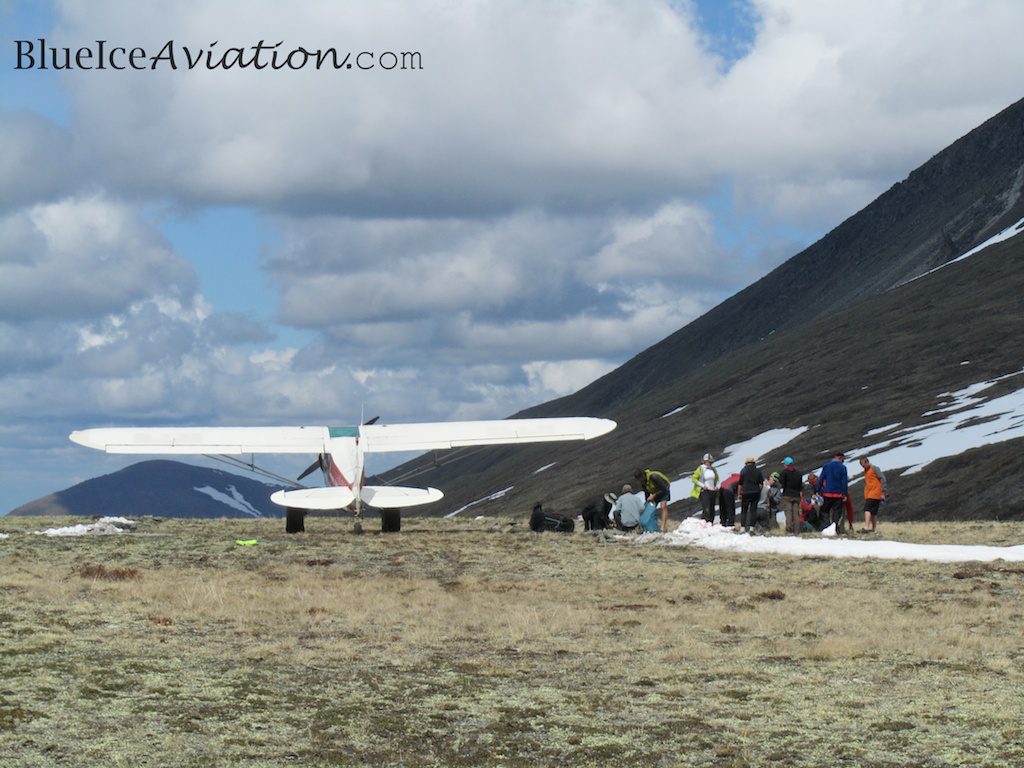 These photos were taken in June of 2012.  A backpacking course had hiked a week to reach this airstrip.  The mountains were more choked than normal because of the heavy snow fall during winter 2011-12.  Even in June, waste deep, and sometimes even chest deep snow was a real problem.  This portion of mountains is in the Eastern Chugach.  Photo #1 shows the only airstrip within 30 miles….so there were no other options.  
These are sticky situations, when the condition of an airstrip is unknown, and we are relying on it to deliver much needed groceries.  It would take an extra $750 of flight time to go check the airstrip beforehand, and that is not always feasable.  We tackle these situations by having a solid "plan b" … airdrop.  Fortunately, for the hikers pictured above, their airstrip had only just barely, barely, barely, loosed itself from winters grip the day before the ration, and I was able to land with ease.  If we had needed to resort to "plan b", they would have been eating animal crackers in powder form rather than cookie form.
To be honest this is one of our nastier strips.  I think I've talked about it before on the blog, but it is only 450′ long and it is at 5500′ elevation.  The wind only blows across the airstrip, and it is crowned.  So, on final aproach, I can only see the first 200′, and if the high point of the strip is not marked with a backpack or something that I can aim for, I am utterly lost.  The rocks lining both sides of the airstrip are like knife blades and I am certain that any wavering in my control would result in a $3000 flat tire.  And to top it all off, there is a bump right in the middle of the airstrip that is absolutely unbelievable, even with Alpha Omega suspension and 35″ bushwheels.  I cringe to even think about it sitting here at my desk … it makes my back hurt.  Yep, this airstrip is a real beauty.