For the new Website click here!  http://blueiceaviation.com//  
A few months ago my buddies at Sideprojectco.com and I decided to giveBlueIceAviation.com a new look.  We have completely redesigned everything and I am stoked about it.  This is the 4th version of the Blue Ice Aviation web site and I couldn't be happier.  We did a major simplification of the site, and made it reflect my business more accurately.  If you need "web stuff" done contact my buddies Dave and Jon fromSideprojectco.com, they are awesome!
I have been out of town most of the month of April.  I was on a flying job in Southwest Alaska.  I toted my new DSLR camera with me everywhere I went, and came away with some fun new pics,  you'll see them below.  
Overall the job went well, but it was not without it's challenges.  After 5 days of flying, the weather got bad enough that we spent Easter Sunday sitting in the bunkhouse in Dillingham telling lies to each other in the form of flying stories. (a pilot's favorite pass time when not in the cockpit).  We eventually gave up on being productive, left our airplanes in a hangar in Dillingham, and flew home commercially while the weather sorted itself out.  This was a nice break because I was missing my girls anyways.  We returned to Dillingham on the 11th and spent another 6 days cruising around the AK peninsula and Tikchik mountains.  All-in-all the weather treated us well-enough and we were able to accomplish the goal.  I got home on Ali's 5th birthday which was awesome!
Entering Merrill Pass.
Sneaking home through Lake Clark Pass.
The red track shows 3 days of flying.
After refueling on the lake.
Mike bucking snow on his way back into the air.
We spend all day talking on the radio it's always nice to get on the ground for a few minutes.
Departing Ugashik.
Warming up for lift off.
Some of the locals came out to visit.
The Ugashik Post Office.
Mike refueling.
Inside Aniakchak crater, a perfect circle.
Surprise Lake in Aniakchak Crater.
Sneaking through the hills looking for caribou.
Surprise Lake in Aniakchak Crater.
Weather, weather, weather.
Changing oil in the Pride Hangar in Dillingham.
Spitting snow in Koliganek, time to head for the barn.
Mike landing in Koliganek.
Costal Alaskan weather in April.
A new strip we found.
Super Cub leading the helicopter.
Mike taking off in the Super Cub with the helicopter close in trail.
You know I love Blue Ice.
Landing in Lime Village.
Cool peaks coming into Merrill Pass.
Nice to be home in the hangar.
Preparing to catch a snooze in the back of the 185.
Light Snow, generators, cool mornings, King Salmon, AK.
A partial group photo 75 miles South of Bethel.
One of the groups of caribou.
I made it home for Ali's 5th birthday!!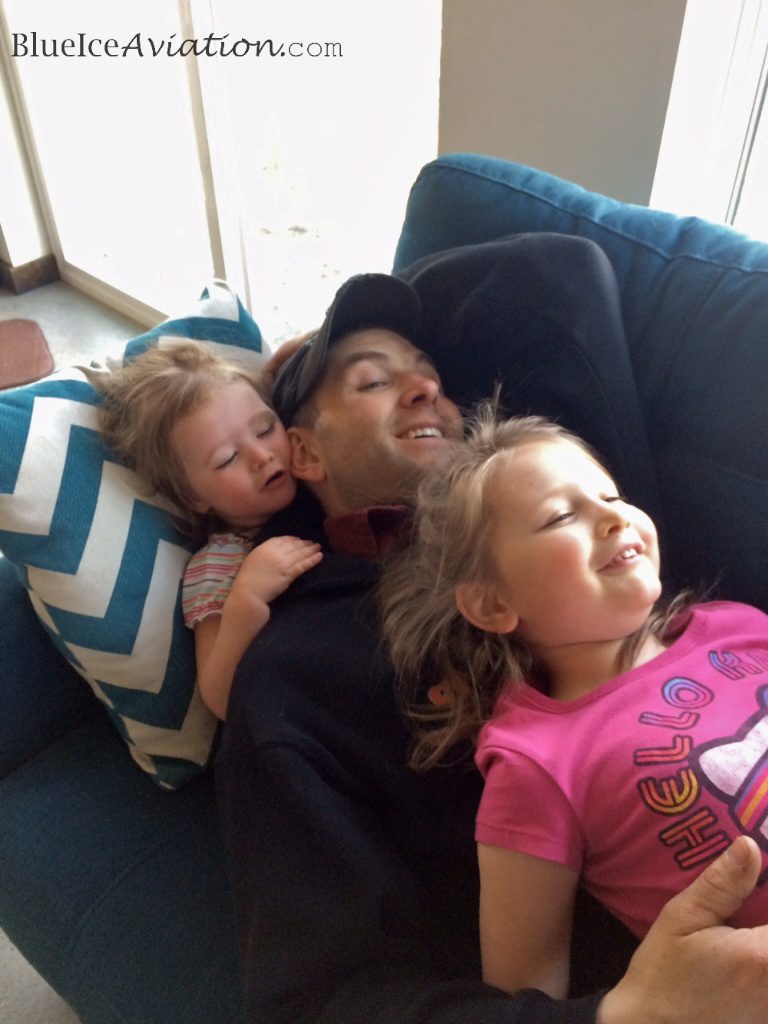 One of my favorite things … a dad sandwich.
Mae helping unpack the airplane and carry my bags to the house.
My girls :o)