I've been in Western Alaska for nearly 3 weeks.  I've posted below 22 photos taken over the past 5 days.  We've had a lot of fun but we are definitely butting heads with the elements.  We've had a tremendous amount of poor weather, but we've also gotten a lot of work done.  We are currently on our 3rd weather day sitting in bunkhouse watching the wind blow.  Yesterday I saw 201 mph on my gps, thats a stiff little breeze.
 We were dodging around in the precip and found this knob to refuel on in the Goodnews drainage.
Sunshine, clouds, precip and ash.
My buddy Neil, gotta watch out for this guy.
Running the coast between Cape Newenham and Togiak.
And then Pavlof Volcano Blew.  I did not take this picture, but this is the eruption on March 27th.  It sent an ash cloud 37000 feet high.  We were 281 miles away in Dillingham and the ash plume nailed us.
All that grey stuff on the snow is ash.
My buddy Nick waiting on weather in the hangar.  We've done a lot of this over the past two weeks.
Mike Meekin on final to land on a knob on the Kweethluk River.
Lots of Caribou around here.
Refueling on the Kweethluk.
Mike Meekin on the role for departure off the Kweethluk knob.
Old N7580Y with Mike Meekin at the controls.  He has more than 20,000 hours in the serial number cub.
Nick and I enjoying the view on a beautiful afternoon south of Bethel.
The Tikchik Mountains enroute from Eek Lake to Dillingham.
This is some of the most beautiful country I've ever had the pleasure of flying over … on a nice day.  We did not get off the ground until 1230 pm and this was taken at 7pm on the nicest evening of flight we've had in weeks.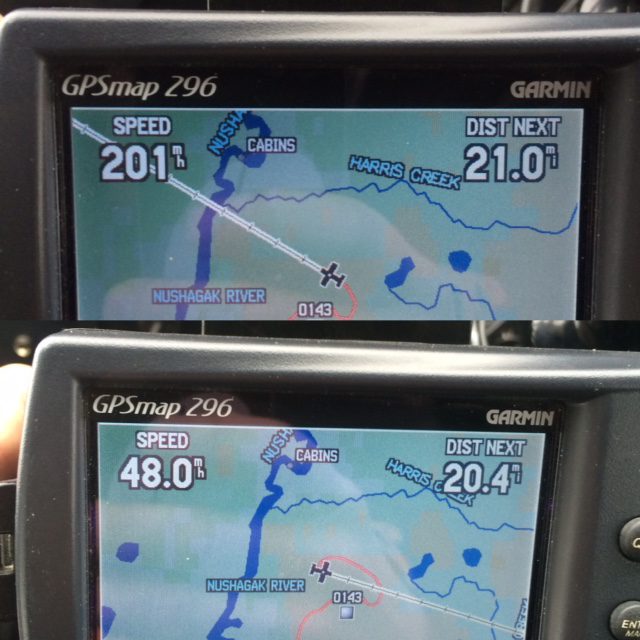 It got breezy yesterday.  I was in the Cessna 185 and the above photo shows my ground speed.  201 mph downwind and 48 mph on the upwind.
My ol' girl strapped down on the ramp waiting to play when the weather clears.