Here I sit in a bunkhouse in Dillingham.  I think I got sunburned today.  The weather this Spring is totally ridiculous.  In past years I have seen several sub zero March mornings in Dillingham, but today it was 45 degrees!  And so was yesterday, and the day before.  The weather has been totally amazing … just not very Alaskan.  I'm trying not to whine, because it really is nice flying weather, but it just does not seem right.  I did not even turn the heater on in my Super Cub all day today because it was so hot! Anyways, enough about the weather, it's nice to be back to work after a really slow winter.  It's been slow BECAUSE OF THE EXTREMELY WARM WEATHER!  Alaska relies on nasty, foul, snowy, windy, cold, nasty, foul winters.  We actually like em'.  Well, after all my whining about the nice weather I guess we did have some weather last Thursday, forcing us to stay grounded, and I expect more to come in the future.  In the mean time enjoy a couple of photos taken over the last several days in Western Alaska.
We had a weather day (The weather was good in Dillingham but not at our destination) so I went out stomping around town with my camera and tried to act like a photographer.  These are many of the 32′ commercial drift boats in winter storage.
While acting like a photographer I took a picture of a motor grader…
And an aptly named boat.
…Then we went flying.  This was taken in the village of Goodnews Bay.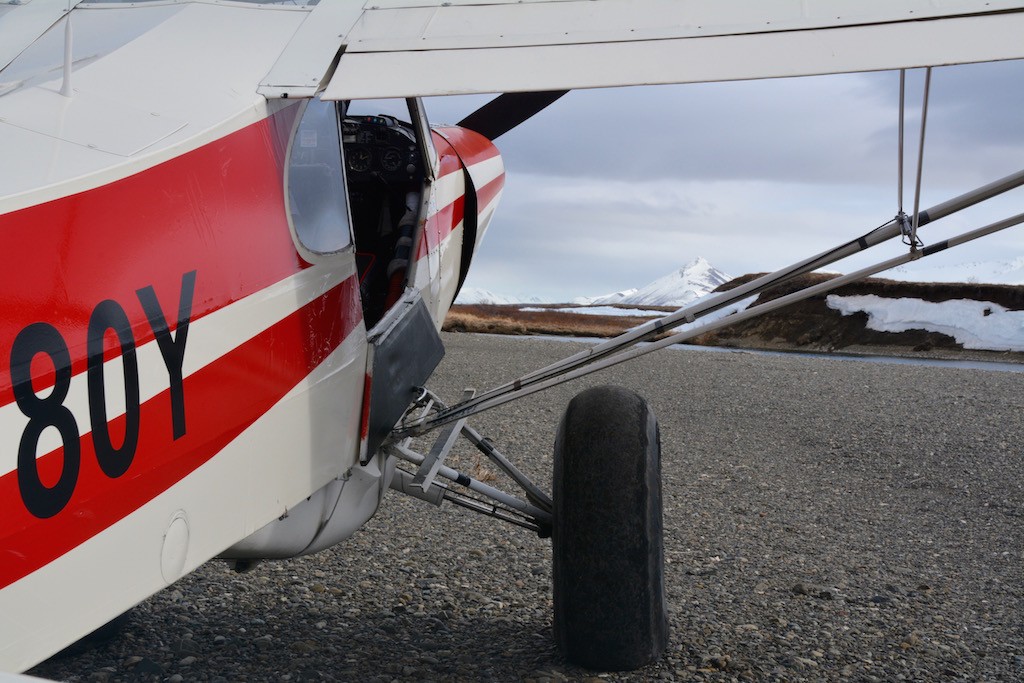 The next day we landed on this gravel bar on the Goodnews River.
Yesterday we landed at this little spot on the Kulukak and ate some crackers and cheese.  We were thankful to have such a pretty spot to stretch our legs, I love this country.
Attempting to run project logistics out of Goodnews Bay.
Goodnews bay this morning 3-14-16.
This afternoon I landed alongside the Goodnews river and saw this little red fox checking us out.  You can also see an eagle's nest in that tree.
She was really brave, and came right up to the plane.
After many hours of sitting in the plane we let energy out by daring each other to cross thin ice.  I lost $5 bucks on this one when Andy made it across!